VIETNAM FOOD & BEVERAGE INDUSTRY: HOW TO WIN CONSUMER HEARTS AND MINDS
Vietnamese consumers are quite easygoing, which is why it is not difficult to win their hearts. By following the below 5 rules, you can surely compete in Vietnam food and beverage market.
​1. Convenient location
For this industry, location is a very important factor. A restaurant with good food, beautiful decoration, reasonable price yet is too difficult to find or has no parking place cannot attract as many customers as expected.
Depending on the type of product being served, each restaurant will have a strategy to choose different locations to reach the maximum target group of customers. For example, milk tea shops or fast food restaurants are normally located near schools while luxurious Western restaurants for high-class guests must have a good "view" (tall, airy, lakeside, etc.) and be located in the city center.
However, with the boom of e-commerce, location is no longer the biggest deciding factor. Strong accessibility to customers is also reflected in good delivery, thus opening up a greater opportunity for those that do not own beautiful locations.
Following that trend, building an optimal delivery system is essential for all restaurants and bars. Or to save costs, F&B-ers can cooperate with food service providers that are blooming in Vietnam such as Now, Foody and Grab food. The battle for food and beverage delivery is becoming fierce. A series of beverage brands such as The Coffee House, Passio, Tocotoco, etc. have developed their own mobile applications with delivery systems.
2. Reasonable price
As stated in the previous article on different types of eating and drinking, a consumer may be willing to pay VND 265,000 when visiting an elegant restaurant, but only accept VND 35,000 for snack on the sidewalk. Therefore, the feeling of being expensive or cheap is not an absolute quantity for visual comparison but depends strictly on the type of products and service (hot pot, pub or buffet ...), restaurant segment (luxury, high-class, affordable ...), style (pure Vietnamese, Korean, French, Italian ...) and other qualities.
In Vietnam, Western food is usually about 2.5 times more expensive than Asian food. To narrow the difference, creating a more comfortable price, Western-style restaurants take full advantage of promotions such as vouchers, combos, coupons, and drinks almost all year round. For example, KFC a d McDonald's often offer a series of price incentives to stimulate demand. Decision Lab's report even pointed out that 23% of Western restaurant customers come on the occasion of promotions or use discount vouchers.
This figure for Asian-style restaurants is only 6%. However, misusing vouchers and promotions will bring negative results in the long run as it may devalue the brand. Therefore, when launching promotions, brands should target a group of customers who can help them increase sales in the long term.
For example, groups of sufficient size and high frequency of eating and drinking out (aged 26-35 years old, office workers, living in Hanoi urban districts) often have higher average expenditure, so it is possible classify them as potential customers.
In addition, by adding Vietnamese dishes to the menu, or creating foreign dishes combining Vietnamese traditional dishes, Western restaurants can completely increase the frequency of visits by consumers.
3. Right time needs
Popular restaurant is suitable for casual dining when there is no cooking condition, while luxury restaurants are for special occasions that consumers want to spend generously such as birthdays, New Year holidays, and anniversaries or reuniting with family and friends.
Vietnamese people eat out most at breakfast. Everyone agrees that it is a very important meal, cannot be missed but they could not have it at home for fear of being late for work or school. The number of visitors to restaurants for breakfast is 20% more than for lunch.
In particular, breakfast is a big revenue source for those who want to exploit this segment because customers have a high level of loyalty, not changing as much as for lunches and dinners (¾ of surveyed people share that they choose to buy breakfast at the same place from 3-7 times a week).
4. Matching Vietnamese people's appetite
This is the fourth most important factor in restaurant selection, after convenient location, clean space and quality of food / drink.
​5. Good service
Many factors have to be combined to create such feeling including clean, cool space (the second most important thing when choosing a restaurant), food quality, service style, atmosphere in general, etc.
Compared to Vietnamese traditional restaurants, Western ones excel in cleanliness, friendly staff, food / drink quality, service speed and overall atmosphere. Basically, the satisfaction of customers who go there is generally higher.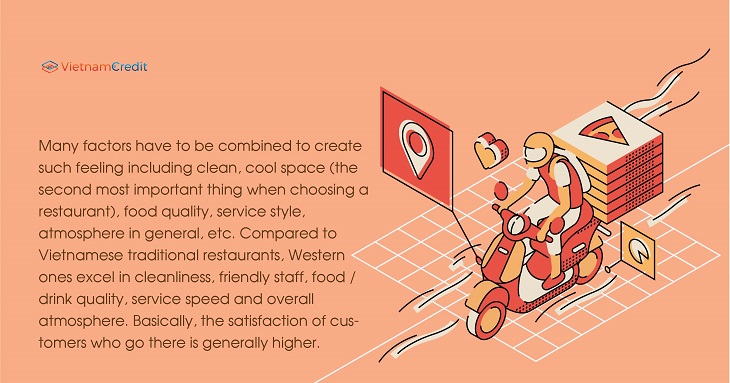 In summary, 5 factors that determine the success of a food and beverage brand in the Vietnamese market include: convenience and accessibility (good location or good delivery), reasonable price (in relation to product type and quality), right time need, taste and a sense of satisfaction (in terms of space and service).
In addition, you can refer to the average spending to have a pricing method consistent with the business strategy.
Source: Decision Lab, vietnamcredit.com.vn
---
BÀI VIẾT LIÊN QUAN