Food Processing – A Promising Sector For FDI Inflows To Vietnam In 2021
Overview
Food processing is one of the sectors that Vietnam is prioritizing to develop by 2025, with a vision to 2035. The food processing industry in Vietnam has grown steadily over the past few years. In the period 2013-2017, the Index of Industrial Production (IIP) of the food processing industry increased by an average of 6.82% annually (VGP, 2018). Despite the impacts of the COVID-19 pandemic, the 2020-IIP of the industry still increased by 5.3% compared with 2019 (GSO, 2020), as well as the quality of the products and number of companies.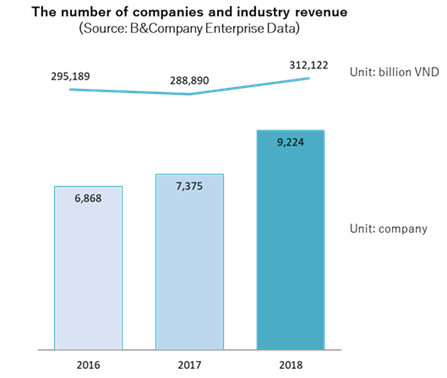 Only within 2-year-period from 2016-2018, the food processing industry witnessed a sharp increase of 30% to nearly 10,000 companies. The top 5 cities/provinces which located most food processing companies include Ho Chi Minh City, Hanoi, Binh Phuoc, Tien Giang, and Long An. These 5 cities/provinces accounted for nearly 50% of the total food processors nationwide (B&Company Enterprises Data). Southern provinces have the highest density of food processing companies, which can be explained by the abundant agriculture resources and fertile rice bowl here, especially in the Mekong river delta.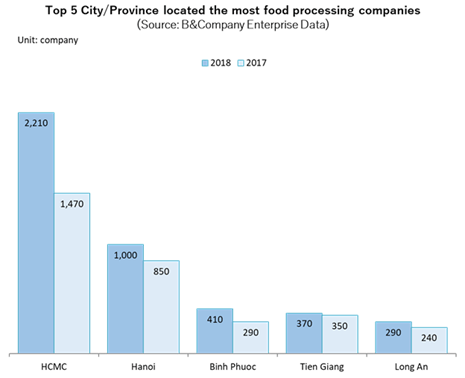 Being considered as the food basket of the world, Vietnam has many advantages for the processing industry with a diverse range of products, from rice, vegetable, coffee, pepper to cashew, tropical fruits and seafood, etc. In 2020, Vietnam ranks 16th in the world in terms of exports of agricultural, forestry, and aquatic products with a USD 41.25 billion export value. The agricultural sector has also made a great contribution to the national economy, being the only sector that continuously maintains the trade surplus. The Ministry of Agriculture and Rural Development (MARD) sets a target that by 2025, the export value of agricultural, forestry, and fishery products of Vietnam will reach about USD 50 – 51 billion and increase to USD 60 – 62 billion by 2030 (Communist Party of Vietnam Online Newspaper, 2020).
Increasing M&A Deals
Even though Vietnam's agricultural, forestry, and aquatic product exports on the world market still increase mainly in volume, the proportion of deeply processed products and products with added value goods is not high. In fact, the country's agricultural product processing technology merely meets regional and international standards. On the bright side, according to experts, these shortcomings attract foreign companies to invest in and complete the value chain for the food processing industry in Vietnam. In 2018, there were about 370 companies with 100% FDI and 70 joint-venture companies in food processing (B&Company Enterprise Data). Until January 2019, total FDI flows in the food processing sector reached USD 11.2 billion, spanning over 717 projects, excluding M&A activities (Agro info, 2019).
Recent years also witnessed many M&A cases within the sector, including CJCJ (a subsidiary specializing in food and biomedical technology of South Korean conglomerate CJ Group), acquired or bought significant shares in a number of local food brands and companies, which specialize in vegetables, fruit processing, and preservation, producing cakes and ready-to-eat foods, and food wholesaling. These include Ong Kim and the Cau Tre Processing Joint Stock Company (Agroinfo, 2019). Kido Group Joint Stock Company, Vietnam's leading snack business, transferred 100% of shares in Binh Duong Kinh Do Joint Stock Company to Mondelez International Group (USA) with USD 370 million for 80% shares, 20% shares were sold later (Investment Online Newspaper, 2020). Vietnam Dairy Products Joint Stock Company (Vinamilk) transferred nearly 20% of its shares to Fraser & Neave Group (F&N – Singapore) (Central Committee the Vietnam Fatherland Front Online Newspaper, 2019).
Government's perspectives and future of food processing industry
The Government also expects foreign investment to play a major role in enhancing the country's food processing industry. Incentives and favorable conditions are given, with priority over projects with advanced and environment-friendly technologies and creating high-added-value products. High-tech integrated production chains are completely tax-free. In addition, investors are entitled to a 5% lower corporate income tax compared to the normal tax rate (25%). Prioritized projects will be tax-free for up to 4 years, after which they will enjoy a 50% lower tax rate than usual over the next 9 years (Agroinfo, 2019). Currently, most foreign investors are from Asian countries and territories such as Thailand, Taiwan, Malaysia, South Korea, and China. By offering preferential policies, the government expects to attract investment from countries with strong food processing industries and modern technologies like Japan, the US, Australia, and EU members.
With a growing young population and increased income levels, Vietnam is now showing increasing domestic demand for food and beverage. In addition, Vietnam has been participating in new-generation free trade agreements, such as the Comprehensive and Progressive Agreement for Trans-Pacific Partnership (CPTPP), EU-Vietnam Free Trade Agreement (EVFTA), so the opportunity to expand the export market for agricultural products, especially, processed products, is more open. Thus, Vietnam's food processing industry has huge potential in terms of both the domestic market and exports, which is even more appealing to foreign investors.
Please read other industry review articles from us or request one!
Uyen Dam
References:
---
BÀI VIẾT LIÊN QUAN