INDUSTRY FORECAST: FUTURE OF VIETNAM FOOD & BEVERAGE INDUSTRY
In order to build credibility, and dominate domestic markets as well as penetrate other countries, businesses need to capture the movement of major trends for a thorough preparation and an appropriate approach
Explosion of natural-origin and environmentally friendly products
In the context of increasing disposable income, a high proportion of the young population and a growing middle class, consumers gradually become intelligent and lead a green and healthy lifestyle through the use of organic and clean foods. For at least the next 3 years, organic food and the use of environmental protection materials and packaging are forecasted to experience a milestone. A number of government health campaigns have been launched, and the awareness of people about food safety, clean food has also been raised. Although this has just emerged, it is a good indication of the fact that there is still room for growth of this niche market. Manufacturers have also become more involved in promoting health-related benefits in their products.
Experts in the food & beverage industry also believe that that organic and natural-origin as well as convenient and one-of-a-kind products for young people will be the main trends in the market in the near future.
A quick survey of consumer behaviors in the country's two major cities, Hanoi and Ho Chi Minh City, conducted in September 2019, also shows that consumers' top priorities when buying foods and drinks are Nutritious (60.3%) and Organic (51.5%).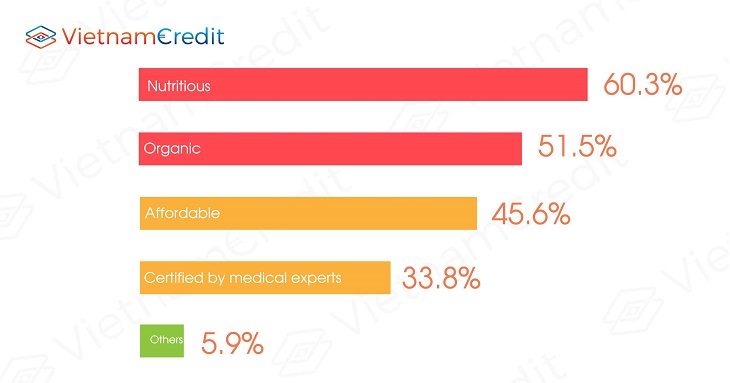 Some experts are of the opinion that consumers' needs, especially in major cities, for food and drink are more and more diverse. However, these needs are also considered more closely in terms of traceability, nutrition and health. Therefore, perfecting the system from production to distribution is essential for businesses within the industry to meet the increasing and diverse needs of consumers.
Rise of beliefs in true the values and stories about products and brands.
​Industry experts also said that consumers not only use the mass products of large manufacturing corporations, they will also start to care about the origin of the product and how it is made. Such features make consumption more personalized, influenced by emotions and human values between buyers and sellers. Consumers will put their trust in the brand of the products, which is judged by the honesty of the manufacturers in providing transparent information and easy access to information. A reputable industry expert also emphasized that when food and beverage businesses look for additives for food and beverages, they often face difficulties in traceability.
Ability to innovate from big data
Big data and Artificial Intelligence (AI) have recently been mentioned a lot. Their applications have also been used in some food and beverage businesses in Vietnam. For example, VinMart Scan & Go application with super-fast payment capability, which saves up to 90% of time, or the widespread use of robots in the processing and operation stages of Vinamilk. However, according to industry experts, the most potential benefits that Big Data brings to the food and beverage industry is the ability to personalize from collected data, to share data and to support automation, which makes products meet the different nutritional needs and preferences of each individual.
​This is a new trend but it is likely to become the strongest development trend in many years to come. With the collected data about the customer's body and health indicators, through Big Data, businesses can recommend the most appropriate diet, design meals based on the health analysis report and provide the on-site product delivery service to customers. As fitness-tracking wearables become more prevalent, this is likely to be the newest and most attractive application of technology to the food and beverage industry.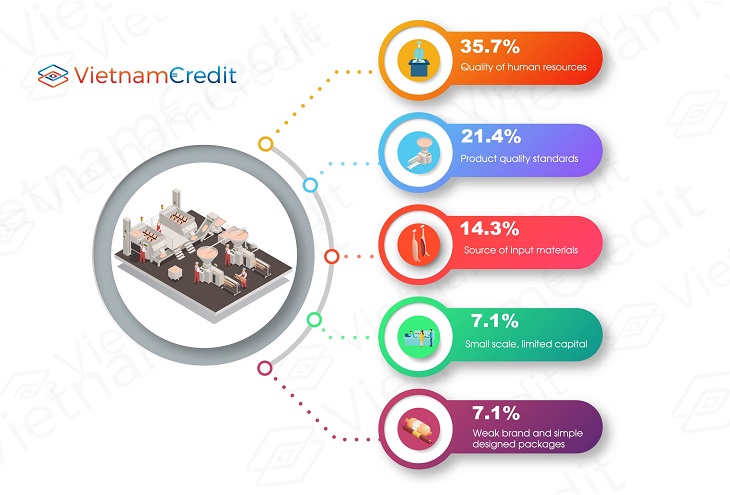 Meanwhile, industry experts stated that there are two main difficulties / challenges that may hinder businesses in the market as follows:
Firstly, the lack of and unstable supply of raw materials for the domestic food processing industry, and the fact that imported raw materials account for a large proportion, will make enterprises not proactive in quantity, quality and prices of input, affecting production and business activities. Along with that is the strict requirements from the import markets when several FTAs have been passed. For example, the dairy industry can only meet about 25% of total demand, while 90% of oil materials must be imported; Malt, houblon flower, enzyme preparations ... have not been produced domestically, so they still have to be imported.
Secondly, the wave of M&A and annexation of domestic enterprises of foreign investors is taking place quite strongly in the industry. Worryingly, major domestic food brands including Vissan, Cau Tre, Kinh Do, Bibica, which are considered as the mainstays of the market, are gradually falling into the hand of foreign businesses. Competition in the food & beverage industry in Vietnam has never been so fierce that many domestic enterprises have been annexed and merged, which is caused by the fact that the business culture habits of Vietnamese enterprises cannot change in line with the speed of integration.
It is obviously seen that the opportunity for the development of food - beverage brands in Vietnam is huge. When foreign enterprises are actively present in Vietnam market, they will open many opportunities for cooperation and investment in production in industrial parks, creating jobs for workers, technology transfer, and production. Products become diversified and convenient. Along with that, the competitiveness is pushed up, which, on the one hand, stimulates domestic enterprises to adapt to innovation to integrate into the common "playing field" of trade. However, a strong brand is not enough, it must also be a prestigious brand. Therefore, in the coming time, food and beverage businesses need to invest more in promoting and developing their images and putting their names on the map of world food and beverages.
Source: vietnamcredit.com.vn
---
BÀI VIẾT LIÊN QUAN